Nordic Rose Weekend
Copenhagen, 28 June – 1 July 2018
(Klik
her
for dansk version)
---
As an alternative to World Rose Convention, participants from Nordic countries can sign up for attending "Nordic Rose Weekend 2018", which will give you access to attend the weekend program and weekend social events of World Rose Convention and a special dinner arranged for our Nordic delegates.
Price for Nordic Rose Weekend 2018: DKK2960 (Euro395)
Registration deadline for Nordic Rose Weekend: May 31, 2018
It is worth to be mentioned that the price for the Early-Bird Registration Fee for World Rose Convention 2018 (register before November 30, 2017) is the same as Nordic Rose Weekend. So why not benefit yourself by signing up before November 30, 2017 and attend the entire World Rose Conventioin?! This will give you the option of attending as much as you like including the closing dinner.
** For detailed program, please refer to June 28 - July 01 program of WRC Program - click HERE**
THURSDAY, 28 JUNE
Morning & Afternoon
Arrival and registration
Place: Tivoli Congress Center
19.00-20.00
Meet & Greet
Place: Copenhagen City Hall

---
FRIDAY, 29 JUNE
10.00-12.30
Opening ceremony
Place: Copenhagen City Hall
12.00-17.00
An afternoon at Rosenborg Castle
Place: The King's Garden and Rosenborg Castle and Garden
---

SATURDAY, 30 JUNE
8.30-12.00
Nordic lectures (All lectures will be in English)
Place: Tivoli Congress Center

08.30-09.30 Denmark
09.30-10.00 Sweden
10.00-10.30 BREAK
10.30-11.00 Iceland
11.00-11.30 Norway
11.30-12.00 Finland
(A detailed lecture program will be published later)
12.00-12.30 Presentation of regional conventions

Afternoon
An afternoon of celebration in Valby Park.
Place: Valby Park
Evening
We have arranged a casual get-together evening specially for our Nordic participants at Ida Meeting Center (200 meters from convention venue). A beautiful gourmet dinner will be served from 19:00. After the dinner, you may wish to spend time in Tivoli Gardens to see their beautiful garden, roses and stunning midnight fireworks.
Special rate for 3-course gourmet dinner: DKK300 per person.

Click the video to know more about the beautiful set-up at IDA Meeting Center: HERE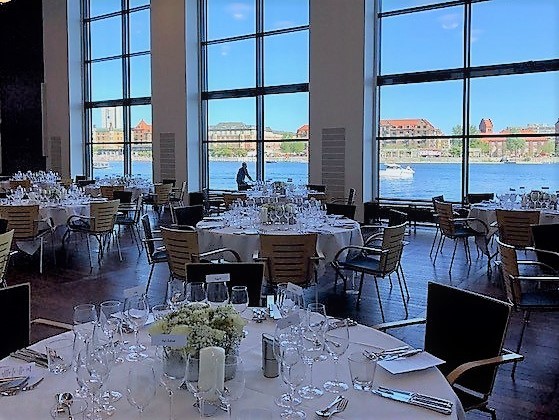 ---

SUNDAY, 1 JULY
09.00-18.30
All Day Tour:
This lovely summer Sunday will take us to the royal palace of Fredensborg – the Queen's summer residence. Here we will visit the beautiful park and the rose garden, and a rose chosen by His Royal Highness Prince Henrik will be baptised in his honour.
Next stop will be at the impressive baroque park at Frederiksborg Castle.
We will continue to Gerlev Parken – an arboretum – with two important rose collections:
The renowned nurseryman and breeder ('Aïcha', 'Fenja' and 'Menja') Valdemar Petersen's collection of heritage roses
The collection from four generations of the Poulsen family.
This very special place in Danish rose history is being maintained by Friends of the Garden. The Friends will meet us and be our guides all afternoon.
Going back to Copenhagen we will visit one of the most modern garden centres in Denmark -Plantorama Hillerød.  Here we will enjoy a light supper before returning to Copenhagen.
This afternoon we will also name a rose bred by Poulsen Roses to commemorate The Danish Rose Society's 25th anniversary.

Price per person: DKK 565
---